Blog
A cup of chocolate cake!
When I came across this recipe I immediately thought, "I have to try this!" How incredible is it to be only 5 minutes away from chocolate cake! It's so easy to make and just the right amount for a sweet, little, individual dessert (or if you're feeling generous, you can share with someone).
So, the other day I had some extra time and thought I'd try it out; I had to see for myself if it really is possible to make a chocolate cake in a mug! I gathered all the ingredients and got started. Here are the dry ones:
I almost didn't think everything would fit in my mug, but it all did. If you want to be a little less messy, I suggest mixing everything in a medium sized bowl, then pouring it into the mug.
Here's the recipe: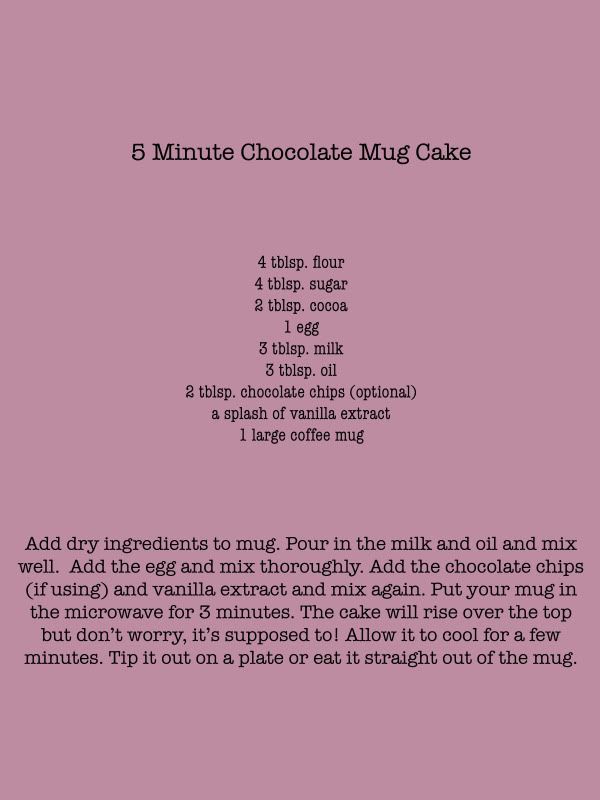 If you have a really strong microwave, you can cook it for a little less than 3 minutes. I do, and the first one I made was a little dry, due to overcooking it. You'll see it rise up over the top of the mug once it starts heating up, but don't worry, it won't explode or drip down. And once it cools it sinks back into the mug quite a bit.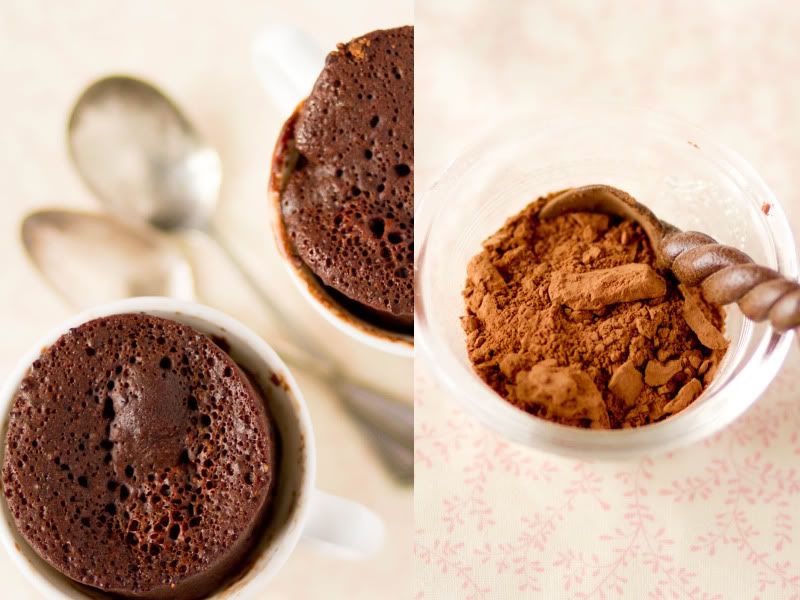 The best part about this is that are so many things you can do with it! I ate mine right out of the mug with a dollop of whipped cream and that was really delicious. But you can also tip it out onto a plate and ice it with frosting or eat it with fruit and ice cream too. It's pretty dense, so it's just the right amount and you can even share it if you'd like as well. Just imagine all the possibilities of having your own individual chocolate cake in a mug!
So, next time you get a craving for a little bit of chocolate cake remember this recipe- it's just what you need!
And I just had to share this picture with you because I have the most curious german shepherd ever. She stares at me when I'm up on the chair taking pictures and always wants a piece of what I'm making. At least she's an honest taste tester!
Enjoy.