Blog
M&M Party Cookies
With only 12 more days til Christmas our cookie baking is in full swing!
Even Zora is getting ready:
Isn't she adorable? (You do not want to know what I had to do to get this picture).
One of my favorite cookies of this season are these delicious m&m party cookies. They are the type of cookie that once you eat one, you immediately have to shove 3 more in your mouth and you can't seem to stop yourself. Better yet, they are INCREDIBLY easy to bake and they couldn't look anymore festive with those green and red m&ms. I think this qualifies these cookies as a must have for Christmas time.
I love baking these because the batter looks so pretty when you're spooning them out on the cookie sheets and I always have to eat a spoonful (or two) of it because it just tastes SO good. This year we're making 2 batches because my mom has a cookie exchange at her school where all the teachers make a different cookie and everyone exchanges. I can't wait to see (and taste!) all the different cookies they make this year.
Here is the recipe:
Set aside 20 minutes of your day to make these and share with your loved ones this holiday season!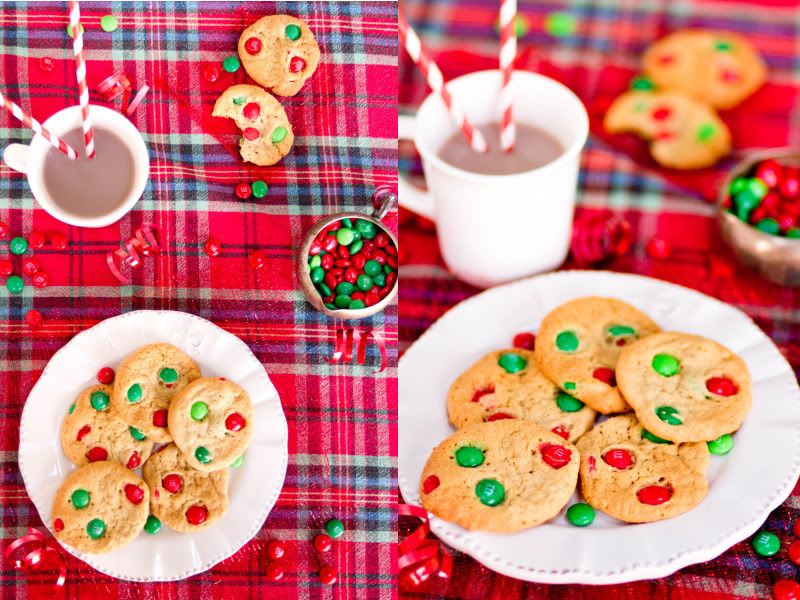 I'm really excited for my next post.. it's going to be the pictures I took for my third (and last) setup for N.E.E.T. magazine. Be on the lookout for them!
---