Blog
Back in December I was asked to make my editor a cake for his birthday. When he sent me the recipe for a red velvet cake I was so excited! It happens to be his favorite, just like mine. I've been waiting (ever so patiently) since then for another excuse to make this recipe. And Valentine's day is always the perfect excuse for me to eat all the red velvet that I can.
Every year I get so excited for February because it seems to be the month of red velvet. You can find it anywhere and everywhere, in all sorts of shapes and sizes...ice cream, whoopie pies, cupcakes, cookies...you name it.
What I really love about this red velvet cake recipe in particular is the frosting. It isn't the traditional cream cheese frosting that you so often see paired with red velvet. It's a sweeter, lighter and more subtle frosting. Basically, it's perfect.
To get the recipe head on over to FOLK Magazine's blog.
I hope you all have a wonderful, red velvet filled Valentine's day!
---
I love that my job takes me to some really unique and beautiful places. Yeah, always being on the run can get a little crazy, some weeks it feels like I'm living out of a suitcase. But when it comes down to it all, I wouldn't want to change a thing about that.
A couple weeks ago a test shoot brought me to the North End in Boston. Ugh. This city is just one of my absolute favorite places. I fell in love with it over the past 2 years and plan on making it my permanent home one of these days.
When asked to photograph my favorite neighborhood in Boston, I immediately gravitated towards the North End. It's like the Little Italy of Boston, so I fit right in. There are pizza places on every corner and beautiful brick buildings in every direction. There are ice cream shops filled with gelato and pastry shops that have some of the best desserts (I, of course, had to enjoy a red velvet cupcake from Mike's Pastry!). All of the cafes, bistros and high end restaurants give off a delicious aroma of garlic and Italian cooking. I don't recommend walking the streets of the North End on an empty stomach, I don't think I've ever craved a bowl of pasta & meatballs more in my life! And not only is the food and atmosphere great but the history of the North End is incredibly intriguing. The Old North Church, the Freedom Trail, the Paul Revere statue, Copp's Hill Burying Ground... there's so much more. Seriously, what isn't there to love about this place?
Here are some outtakes from my trip...
Cheers, to doing what you love!
---
I haven't found the time for a formal blog post yet (what's formal anyways?!), so I'm leaving you with some shots that I snapped from where I was and what I worked on this past weekend. Hoping to be back in the kitchen later this week as the busy-ness winds down for just a little bit :)
Cutest llama!
Two of my favorite final shots of the dishes I photographed this past weekend.
---
Last weekend my friend Sarah and I took a trip up to Western Massachusetts, right near where we went to photography school. I was photographing 2 interiors for work. The first was the most amazing eclectic farm house built in the 1700s. The homeowner is an incredibly talented artist and her home is a true reflection of that. The second home I photographed was completely the opposite, but just as beautiful. It was a traditional Victorian that was built in the 1800s. A gorgeous house that had a lot of original decor with modernized touches done so tastefully. I can't wait to share those with you!
On the way home we stopped in Northampton, MA. A quaint little, artsy town that is a dream come true for photographers. Back when we were in school one of my instructors always told us about these botanical gardens at Smith College and how wonderful a setting they are for photo shoots. Sadly, despite all our trips into Northampton, we never made our way to the gardens until just last weekend. Even then, we practically (and accidentally) stumbled upon them and said, Oh yeah, these are the gardens Joan was always talking about.
Well, gee. If I could go back in time to when I was a student I would go straight to these gardens. They were SO beautiful. They are placed right on the picturesque campus of Smith College. There are a bunch of flowers and gardens outside as well, as you'll see at the end of this post. But when you walk inside you are transformed into a whole other world. There are plants of all different varieties, from all different continents covering literally the floor to the ceiling. I guess not only is this a dream come true for photographers but for botanists as well!
I just had to share some of the beauty with you all....
Look at the outside view of the building-amazing.
If you'd like to read more about these beautiful gardens, visit their site.
---
When most people hear Cooperstown, NY they immediately think baseball. Which they should, after all the first baseball field (ever ) was there. It's home to the National Baseball Hall of Fame as well as Dreams Park where baseball teams travel from all over the U.S. to come and play there for an intense week of baseball tournaments.
I'll be honest...I'm not a fan of baseball, it's one of the very few sports that I simply cannot bear to watch. So why was I in Cooperstown? Well, while everyone who visits there is busy at the baseball park there is a tiny little town to be discovered that is as quaint as ever, filled with wonderful boutiques & cafes and placed conveniently along the shore of a beautiful, picturesque 9 mile lake.
From where I live in the Hudson River Valley you take an incredibly scenic drive north, passing through the Catskills all the way up to Cooperstown. There were antique shops & farmers markets scattered along the way throughout the whole trip. And one thing I learned... I live really close to the middle of nowhere. It was farms galore and maybe every once in a while you would pass through tiny, tiny, little, rundown towns that consisted of maybe 10 buildings at the most. But when you finally make it you practically stumble across this town that has one little stretch of main street. So yes, it's tiny too, but what it lacks in size it sure makes up for in beauty.
The first night we ate at the the Blue Mingo Grill. It was right on the water, so we ate outside and enjoyed the spectacular view. The restaurant is named after an Indian tribe that once lived there.
Every Thursday night there are fireworks.
What enthralled me the most was the architecture, the old buildings and history that flows throughout the town. The Clarks & Singers, (yes Singer sewing machine), two BIG family names have originated from and lived in Cooperstown forever. They generously fund the town and keep it so beautiful, it really is a gem.
If you're looking for something sweet, Schneider's bakery is the place to go. They had a delicious assortment of cookies, cakes and breads. (And may I suggest their red velvet cupcakes?). The window displays were enough to convince me.
There are the most amazing Victorian homes on every street corner. A lot of them have been turned into the most darling Inns and Bed & Breakfasts.
All of the homes hold such beautiful character and are immaculately kept. The flowers, the paint, the architecture...it's all too much to take in, you have to walk by each one 5 times a day to really soak in all the beauty.
Savor New York is a wonderful boutique that has all American, local made products. We spent hours in there sampling the treats they had in the back and the owner even writes her own cookbooks. Out front was a perfect little spot to stop and rest surrounded by beautiful flowers.
And then there is the lake. It's breathtaking. We sat out there for hours in the evening. There's a beautifully landscaped park with a small walkway and lots of benches right by the docks. And the best part about all of this is that it's so un-commercialized and quiet. It's not busy at all because it's such a small town and the locals know of the beautiful spots but everyone else who visits consumes their time with the baseball park and hall of fame.
Another of my favorite stops there was the brand new Council Rock Brewery. Named after a popular landmark of the area, this microbrewery is a new venture for the owners Roger & Maureen.
They are currently experimenting with new beer flavors and in addition to that they have an assortment of different Italian sodas that are made near by at Cooper's Cave Ale Company. They're not overly sweet but full of flavor, just the way they should be.
Their beautiful bar is handmade by a friend. It holds a variety of different woods and a unique geometrical shape.
Roger makes all of the beer himself and was kind enough to show me around the back and talk about the whole process he goes through for making beer. Roger is a chemistry teacher which plays a big role in the process.
He first started making beer when one of his sons came home from college and said, "Dad, let's make some beer", his response, "But I don't even like beer". So, they bought a beer making kit, tried it out, loved it and the rest is history!
And who knew compressed hops look like rabit food!?
---
Last week we went to a little local farm that's less than a minute down the road. I've been going there since I was little and I've spent many days there taking pictures and watching all the animals.
We picked one of the hottest days to go (it was 90 degrees outside!) but it was just as beautiful as ever. There were lots of baby goats and they were so friendly and cute!
They make their own fresh cheese and sell it at their little market as well as a bunch of stores in the area. While I was there they let me try all of their different kinds. They are each incredibly unique and delicious.
They have a window through the shop that looks into the area where they make the cheese. The lady who was working there was so sweet, she explained and showed us the whole cheese making process. I even got to meet Colin, the cheesemaker. He's a graduate of The Culinary Institute of America and he makes all of the cheese at Sprout Creek Farm.
I bought a wedge of their cheese called Eden. It was one of my favorites that I had tried. After talking to Colin, he kindly gave me 3 other types, Toussaint, Batch 35 and Madeleine, to photograph.
Head on over to their website (click here) and check out all the other types of cheeses they have and to read all about Sprout Creek.
Enjoy!
---
This weekend my grandparents came to visit and we went to my favorite farm across the river, the DuBois farm. They have every type of apples you can imagine, grapes, pears, plums, peaches, tomatoes and more. They even have pony rides! It's the perfect place to go in the fall.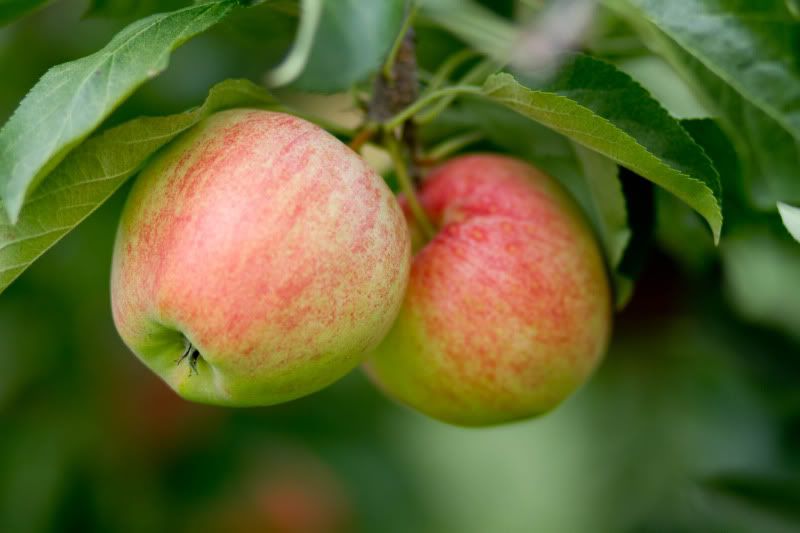 We ended up picking figi, gala, macintosh and honey crisp apples. All of which were delicious! I even found some peaches that were on the trees too, which made me excited because they're my favorite.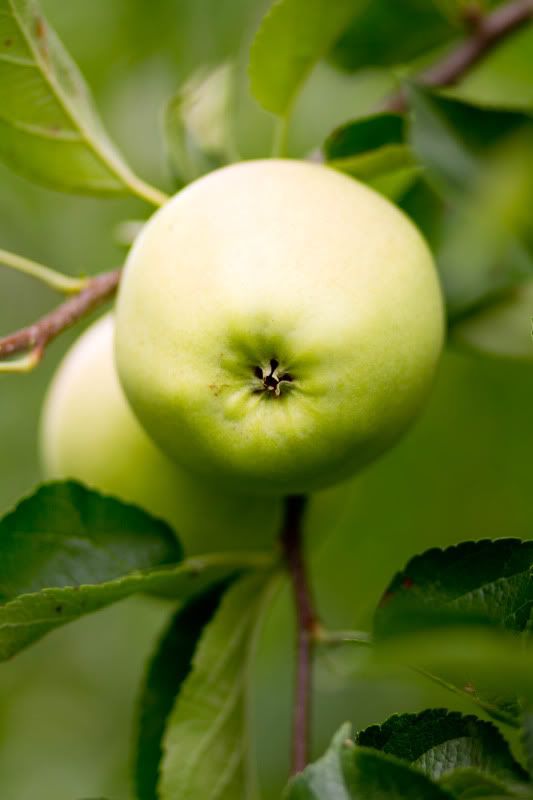 Soon to be a golden delicious apple, those weren't ready yet unfortunately.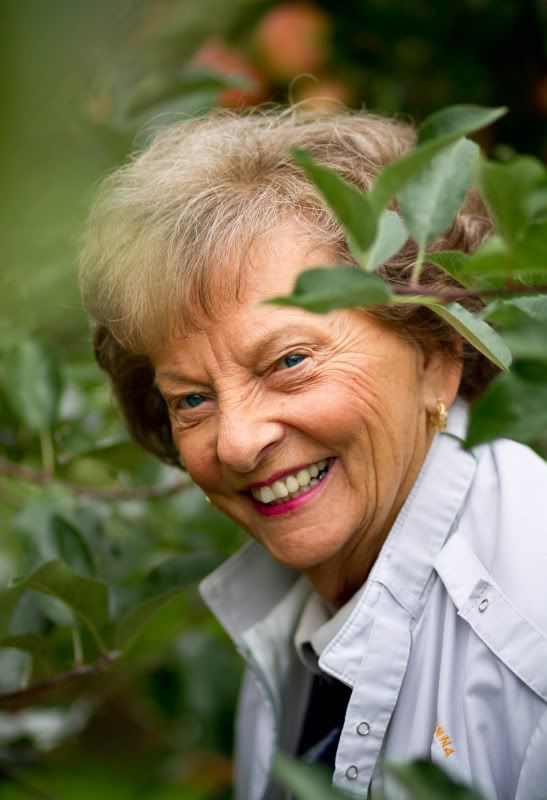 My grandma, caught between two apple trees haha isn't she cute!
My mother between the apples and the peaches.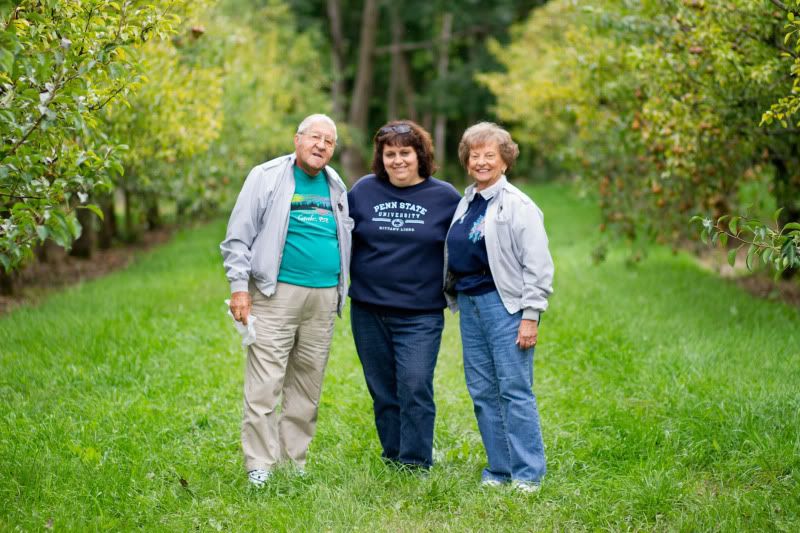 Grandma, grandpa and mom between the bosc pears!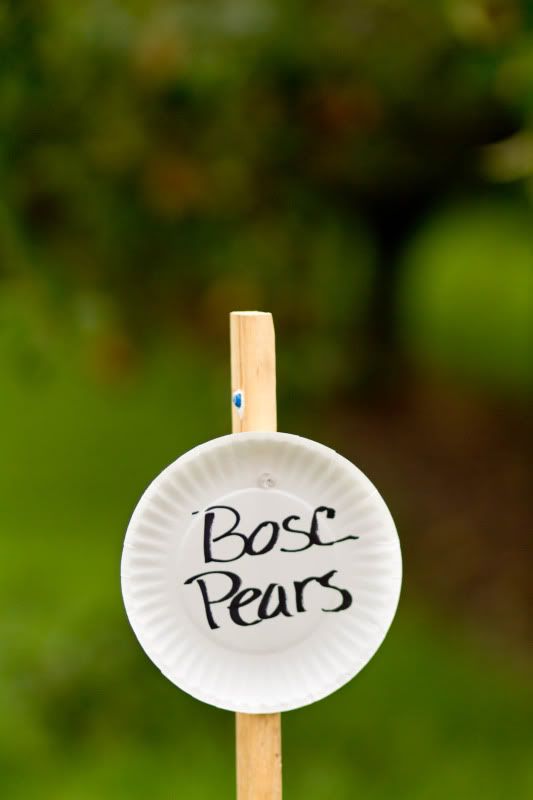 They weren't ripe enough yet, but when they will be they're going to be delicious! I don't eat a lot of pears because I seem to forget about them but I actually like them quite a lot.
My bosc pear in a bowl!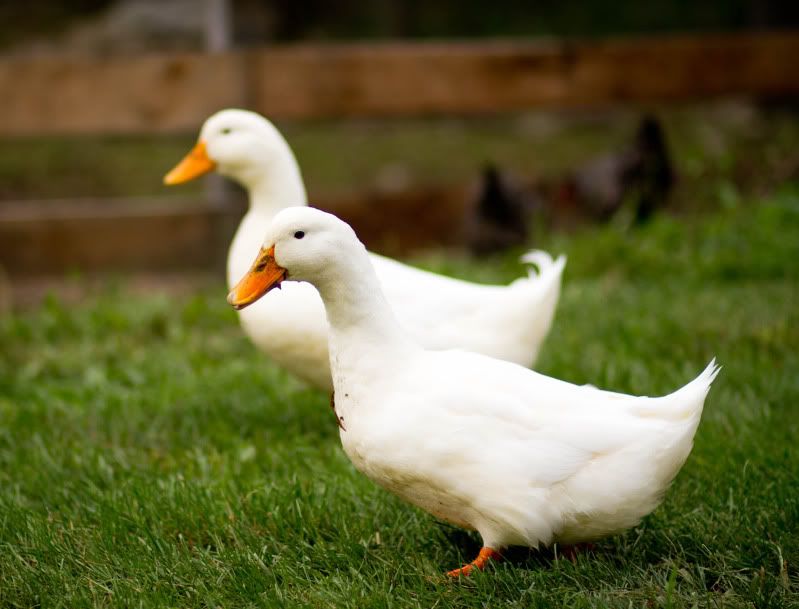 They even had white ducks there swimming in a pond. But then they came ashore and were looking for apples to eat and got kind of mean!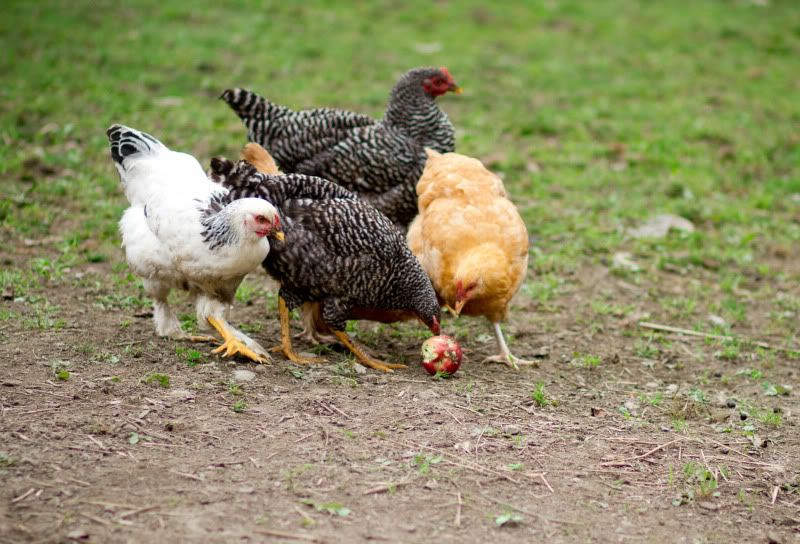 ...so did they...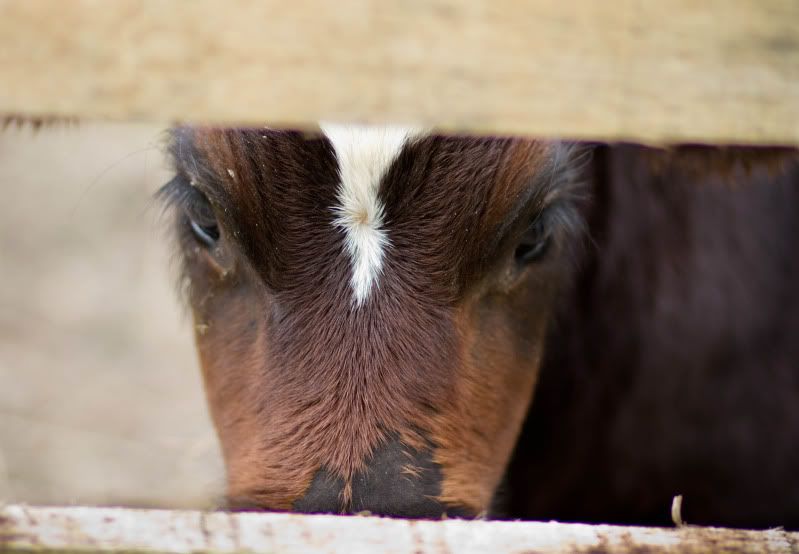 But the sweet little baby cow was just as cute and friendly as ever!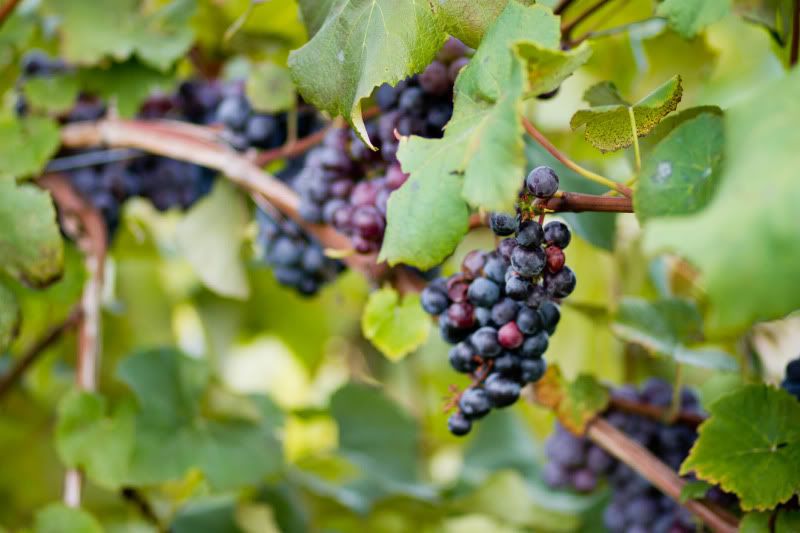 Lastly, we went to the grapes! I picked a ton of these concord grapes. They're always my favorite to pick because they are so beautiful and they taste just like Welches grape juice.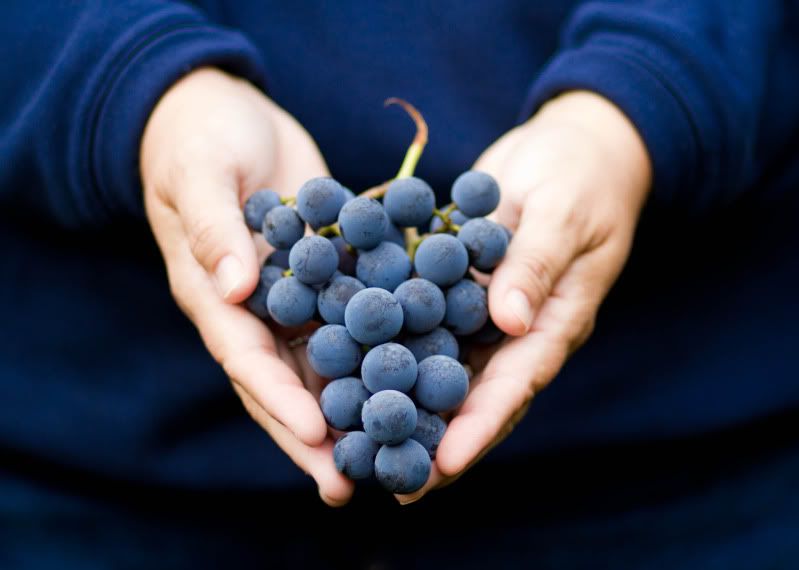 That blue-ish, purple-ish color is just so beautiful. Not only do they taste good but they smell so incredible too.
These will soon be grape jelly! (or wine haha)
I'm sure there will be lots of apple pies and apple crisps coming soon; Just in time for fall this week. I am sad to see summer go but I love the apple and pumpkin picking that comes along with autumn.
Enjoy!