Blog
Mini Black and White Cookies
Well it's October already and all the apples and pumpkins are out! I've been working on a post about a delicious peanut butter apple crisp in light of the new fall season- but I got a little distracted when I came across this recipe.
I've been eating black and white cookies ever since I was little. When my grandpa would come to visit he always brought a black and white cookie for me and my brother (the big ones, not the mini ones). They were from a wonderful Italian bakery in Denville, NJ. I'd always eat the chocolate side and leave the vanilla side behind for my parents (I was really picky when I was younger).
But when I saw the recipe for these cookies I couldn't help but think of my grandpa and the visits he always made to our house. My great-grandparents came to the U.S. from Italy in the early 1900s and my grandpa grew up in Brooklyn, NY. My mom showed me all of these old photographs from the 40s of him and my grandma and some papers that he had written on too.
Now, everytime I eat one of these b&w cookies I think of my grandpa, except now I eat the vanilla side too! And when they're mini, they make the perfect little snack.
So here is the recipe for the cookies:
And once you make the cookies, let them cool and work on the icings:
This recipe makes about 5 dozen cookies. Once you ice them and they dry you can keep them layered between wax or parchment paper so they dont stick to each other.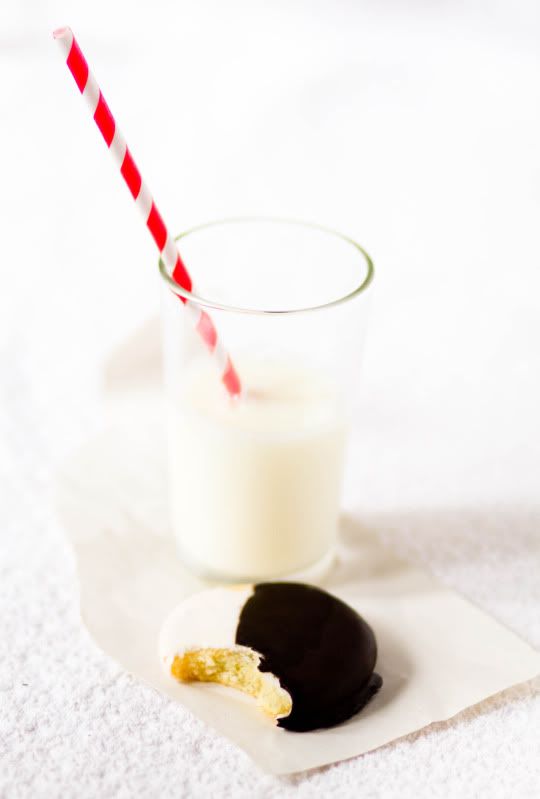 Eat them with milk and it's a perfect combo!
And as promised, the peanut butter apple crisp recipe is coming soon. But I hope you try out this recipe and let me know what you think!
Enjoy