Blog
Watercress Mushroom Salad
I've been reading a lot lately about watercress and all the health benefits it has to offer. Although watercress is one of the oldest known leaf vegetables consumed by human beings, it's fairly new to me. And when I made this salad, I have to admit, it was the first time I've ever tried watercress and I'm happy to say that I like it!
I've read that watercress can aid in the prevention against lung and breast cancer. Also, because it has a high iodine content, it has a strengthening effect on the thyroid gland. Watercress is full of iron, calcium, folic acid and vitamins A and C. If you weren't interested in eating watercress before, after reading that, I sure hope you are now!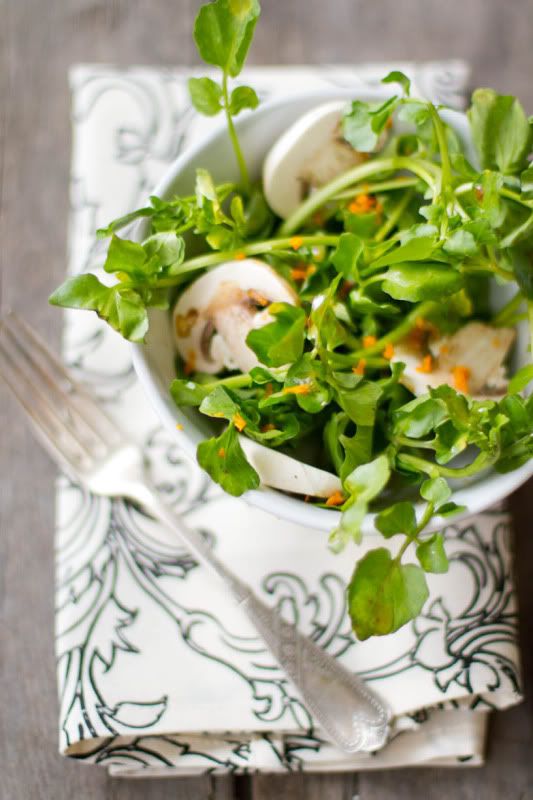 I adapted this recipe from one I found on Epicurious. The dressing is quite tangy and has a slight Asian vibe to it because of the oriental sesame oil. I felt that the dressing worked best as a marinade for the mushrooms and when I made the salad I let the mushrooms sit in the dressing for about 2 hours. Then I mixed in the watercress which gave it a nice, light coating. I topped the salad with some additional orange zest for a little extra citrus punch and to give it a nice splash of color.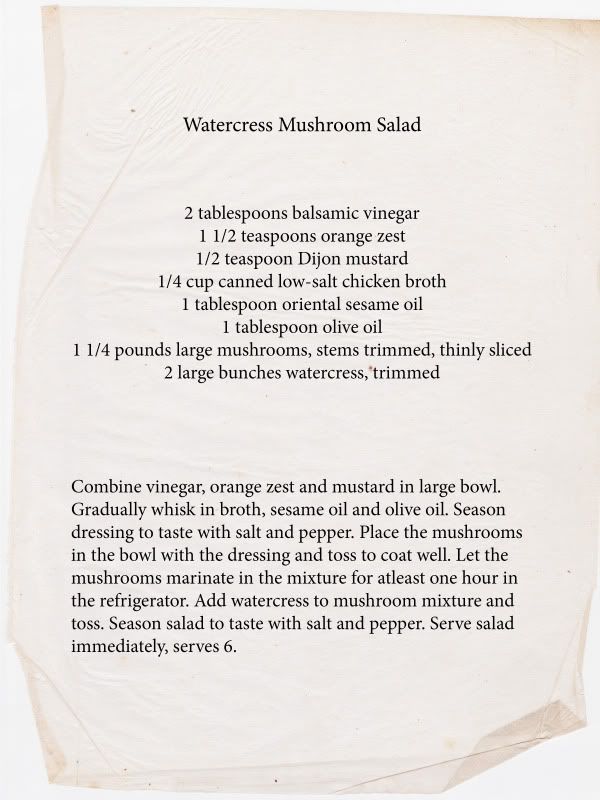 For me, the dressing was an aquired taste because I'm not big on Dijon mustard. But the couple I served it to loved it right away. It's tangy and intense.
If anything, I hope this recipe turns you on to watercress (if you weren't before). It tastes great and is really great for you. This is a perfect lunch dish or side to a delicious dinner.
Enjoy!
---